SPILL KITS
Wholesale Safety Storage Australia
Our Range Of Spill Kits Have Been Designed To Deal Effectively And Rapidly To
C

ontrol,

C

ontain and

C

lean Up Spills
All of our General purpose spill kits are colour-coded blue and contain grey coloured absorbents. These kits are ideal for use for all liquid spills, except aggressive acids and/or bases.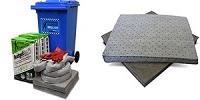 All Hydrocarbon spill kits from WSSA are colour-coded yellow, and all absorbents in these kits contain white absorbents. The components of these kits are designed to recover oils and fuels in and around water without absorbing water. In the event, spills occur on the ground or soil rather than hardstands or concrete surfaces, it is advisable to acquire a kit which includes floor and bioactive ground absorbents.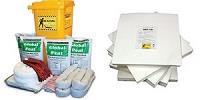 Hazardous chemicals and chemical spill kits in our range of spill kits are colour-coded red and contain pink absorbents. The components of these kits are designed to handle and cleanup acids, bases, coolants, paints, oils, and fuels. They are made of inert materials, which will not react with any absorbed liquids during cleanup.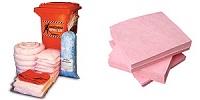 Video Guide
Explore the different types of spill kits and their absorbent properties before investing in your safety
General Purpose Spill Kits
General Purpose Polypropylene Absorbents
Fuel & Oil Polypropylene Absorbents
Hazchem Polypropylene Absorbents
About SPILL KITS & Benefits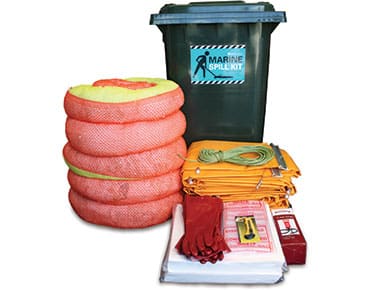 No matter where you are in your home or workplace, spills are inevitable. It is sensible and responsible to prepare a spill kit (a collection of spill response supplies and tools) in the event of accidents.
A spill kit is a set of equipment that is well-organised and specifically designed for cleaning up spilled or leaked substances. The basic procedure is to control the spread of the substance as soon as possible to render it harmless and eventually dispose of it safely.
The basic principle and procedure is to immediately contain and control the spread of whatever substance is spilled. This is to ensure to render the spill harmless especially if they are of the hazardous or toxic nature, and eventually dispose of it safely. Any general spill also has to be cleaned immediately since wet floors can cause people to slip and cause harm.
Spill kits are your first line of defence against any spills in the home, or the workplace. Durable, mobile, and high visibility kits can be taken directly to any spill site. They come in high visibility response bags, drums/pails, or weatherproof wheeled containers that can be easily carried and deployed virtually anywhere.
Spill kits come in various sizes and configurations to handle different spill situations. There are a wide variety of spill kits that are available for sale in Australia, specifically from us at Wholesale Safety Storage (WSSA). Any home or a small laboratory would probably need a small spill kit that can handle with any likely spills. A large facility on the other hand may be required to have on hand a number of specialised spill kits to be able to clean different types of spills that could happen.
Trailers or trucks would need to have large tank emergency spill kits, so they can be dispatched with ease in the event a spill occurs to immediately minimise unwanted effects and subsequent dangers to people and the environment.
Smaller spills require smaller spill kits that can be kept in strategic and convenient locations for easy location by trained personnel to quickly grab and quickly address any issues caused by spills. This includes an efficient and safe clean up, whether they be the common type of spills, or the hazardous type.
Any business operating in Australia are required by law to have provisions for handling any contamination, pollution, or even health risks that may happen on site. The quick, effective, efficient, safe clean up of spillage can minimise or prevent exposure to contaminants and hazardous substances on people and the environment.
Spill kits in Sydney are often kept in containers that are designed to be used to keep the cleanup materials and safety equipment that may be needed to clean spills. Safety equipment included in the kits may contain eye protection, breathing masks, gloves, and possibly overalls or PPEs as these items are the first items that are needed to address spills.
Of course, these kits also contain operating instructions that are clearly labelled and detailed as to each equipment's description and their instructions for proper and safe use.
The advantage and benefits of having spill kits handy is that they can be customised to contain the necessary components that may be required for any spill hazards in your home, laboratory, or any facility. By having spill kits, spills can be easily dealt with safely and reduces any risks to the environment and any person to a minimum.
Acquiring spill kits in a set is the most economical way of ensuring that you have all the necessary equipment and materials you may need on hand. You can, however, purchase all the necessary components and assemble your own spill kit to handle various spill hazards you may encounter. The only downside to this is that buying the individual components and packaging them yourself can become costly.
The size of the area you need to cover determines the size and contents of your spill kit. Also consider the number of people that may be involved and the type of spills that could happen.
Spills and leaks can cause a lot of damage if you don't prepare well in advance. The best way to prevent spills and leaks is to have a spill kit, and to know how to use it.
Having the right spill kit available and ensuring the people involved are trained adequately on how to use spill kits effectively to be able to safeguard everyone. Knowledge on how to use spill kits also prevent any subsequent accidents as well as providing a reasonable peace of mind and security.
Spill kits are an important way to ensure that your place of business, work, and your home is prepared to handle any spills that could endanger people, employees, or even your family. Additionally, it can potentially protect the environment and also prevent your company from incurring fines.
WSSA's range of spill kits contain all the necessary tools you might need to control and clean up spills whenever, and wherever necessary. Like all of our Spill Kit range, they can be customised by adding/removing/swapping components, whether they be in Canvacon bags, buckets, or contained in a mobile, wheeled commercial bin.
Can't find what you need?
If you're unable to find what you're looking for, please call our team for advice.
Speak to us