SPILL KITS
Wholesale Safety Storage Australia
Our Range Of Spill Kits Have Been Designed To Deal Effectively And Rapidly To
C

ontrol,

C

ontain and

C

lean Up Spills
General purpose spill kits are colour-coded blue and contain grey absorbents. They are ideal for all liquid spills, with the exception of aggressive acids or bases.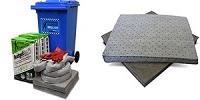 Hydrocarbon spill kits are colour-coded yellow and contain white absorbents. They are designed to recover oils and fuels in and around water without absorbing the water. If the spill kit will be used for spills on soil rather than hardstands or concrete surfaces, choose a kit which includes bioactive ground and floor absorbents.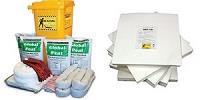 Chemical spill kits are colour-coded red and contain pink absorbents. They are designed for acids, bases, coolants, paints and oils and fuels and are made from inert material which will not react with any absorbed liquids. Check out our range of absorb spill kits.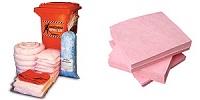 About SPILL KITS & Benefits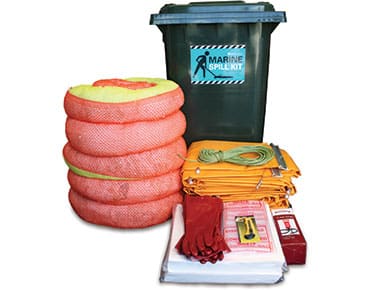 Spills can occur anywhere, they are a fact of life in most homes as well as businesses. Accidents happen and having a spill kit (a collection of appropriate spill response supplies and tools) is a sensible and responsible precaution.
Spill kits come in various sizes depending on the situation. A home or small laboratory probably only needs a small spill kit that could cope with any likely spills. A large facility may require a number of specialised spill kits to cover all the different types of spills that could happen there.
Large tank emergency spill kits are often kept on trailers or trucks so they can be dispatched immediately and easily as soon as a spill occurs to minimize the effects and subsequent dangers.
Smaller spill kits can be kept in convenient locations so trained personal can easily and quickly grab a spill kit and address any issues caused by spill's including an efficient cleanup, whether a common type, or hazardous type of spill.
Often spill kits in Sydeny are kept in containers designed to be used to store the cleanup material during a cleanup. Usually they are packed with safety equipment such as eye protection, breathing masks, gloves and possibly overalls on top as these are the first items needed.
Once the safety gear is put on, the next items will be easy to reach and very clearly labeled as to their description and instruction for use.
One of the huge benefits of having a spill kit is they can be made to contain all the necessary materials required for any spill hazards in your home or facility. This allows the spill to be dealt with safely and reduces any personal or environmental issues to the minimum.
Spill kits are also the most economical way of ensuring you have all the necessary equipment and materials on hand. Purchasing all the individual items needed to deal with the various spill hazards you may have and packaging them so they are secure and readily available, can become a costly exercise.
When determining the size and contents of your spill kit, the decision is directly related to the size of your area, the number of people involved and types of spills that could happen. By having the right spill kit available and ensuring the people there are adequately trained on how to effectively use them, safeguards everyone. This also helps prevent any subsequent accidents as well as giving providing a reasonable standard of peace of mind and security.
Spill Kits are an important way to ensure your home or business can cope with any spills that could endanger your family, employees or the environment and effectively deal with them.
Can't find what you need?
If you're unable to find what you're looking for, please call our team for advice.
Speak to us