Indoor Toxic Substance Storage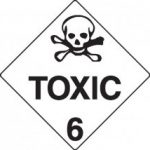 Class 6 – Toxic Substances (AS4452-1997 – The storage and handling of toxic substances)
Our range of Toxic Substance Cabinets have been designed specifically for the storage of Class 6 toxic substances.  This includes meeting the requirements for the storage of pesticides.  The cabinets are manufactured in Australia to ensure they meet the requirements of  AS4452-1997.
All class 6 toxic substance storage cabinets come with a "Danger Pesticide Storage" label.
Features of our range of toxic and pesticide safety cabinets include; self-closing doors and, built in vents with flash arrestors, spill containment sump with drain and a white gloss lead-free epoxy/polyester powder-coat finish.
With sizes ranging from 30L (ideal for placing on or under work benches), to 250L capacity, we have the safety cabinets to meet your requirements.
Class 6 dangerous goods are substances that are classified as TOXIC. According to the Australian Dangerous Goods code (ADG code) they can be defined as: "Division 6.1 Toxic Substances – These are substances liable either to cause death or serious injury or to harm human health if swallowed or inhaled or by skin contact."
Can't find what you need?
If you're unable to find what you're looking for, please call our team for advice.
Speak to us