Indoor Toxic Substance Storage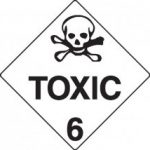 Class 6 – Toxic Substances (AS4452-1997 – The storage and handling of toxic substances)
Our range of Toxic Substance Cabinets have been designed specifically for the storage of Class 6 toxic substances.  This includes meeting the requirements for the storage of pesticides.  The cabinets are manufactured in Australia to ensure they meet the requirements of  AS4452-1997.
All class 6 toxic substance storage cabinets come with a "Danger Pesticide Storage" label.
Description
Toxic substances are that are capable of bringing serious injury or may even cause death if it comes into contact with skin, inhaled, or swallowed. They can also be classified with pathogens such as microorganisms, viruses, bacteria, parasites, fungi, or any other agents which may cause disease in animals and humans.
The examples of Class 6 Dangerous Goods include lead compounds, cyanides, phenols, cresols, some pesticides, biological samples, and clinical wastes, and many others.
The immediate effects that toxic substances can lead to chronic health effects such as liver disease and the development of cancers from prolonged exposures to lower concentrations over a number of years.
The failure to store and handling of toxic substances in a safe and complaint manner may have negative health implications. Another danger that toxic substances may pose is if it were released into the environment. They would have a huge impact on living organisms, which may have a cumulative effect on the food chain.
In addition, if toxic substances are not stored in accordance to the Australian Goods Standards, there is a risk that your company, business, or organisation will be held financially liable for health and environmental hazards due to non-compliance.
It is therefore a prime importance to store and manage them in a safe and compliant manner to reduce the risk of any untoward incidents. The Australian Standard that outlines the requirements is detailed in AS4452-1997.
Like many Australian Dangerous Goods Standards, this standard specifies the requirements for indoor and outdoor storage of toxic substances.
——
In Australia, indoor and outdoor toxic substances containers must be constructed to strict specifications to reduce the risk to people and the environment.
AS 4452 also outlines how toxic substances can be stored indoors if your business or organization uses small quantities of them. Indoor storage must be compliant and has been manufactured to conform with AS 4452.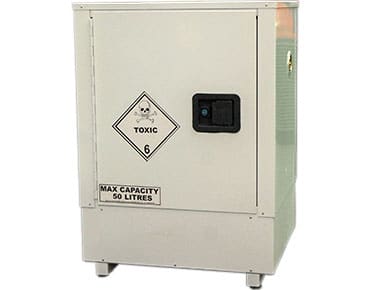 Features of our range of Toxic Substance Storage Cabinets include; self-closing doors and, built in vents with flash arrestors, spill containment sump with drain and a white gloss lead-free epoxy/polyester powder-coat finish.
With sizes ranging from 30L (ideal for placing on or under work benches), to 250L capacity, we have the safety cabinets to meet your requirements. We also have one 350L unit that can be used for outdoor storage.
Class 6 dangerous goods are substances that are classified as TOXIC. The Australian Dangerous Goods Code (ADG code) defines them as: "Division 6.1 Toxic Substances – These are substances that can cause death or serious injury if swallowed, inhaled, or come into contact with the skin."
Construction: WSSA Indoor Toxic Substance Storage Cabinets come in 30, 60, 100, 160, 250, and 350 litre capacities are All-Australian Made and built for Australian conditions.
Do note that in Australia, the maximum amount of toxic substances that can be stored indoors is only up to 250 litres.
Our 350 litre cabinet for this line is designed specifically for outdoor use in a weatherproof area. We manufacture a complete range of Indoor Toxic Substance Storage Cabinets that meet and fully comply with AS4452-1997 - The storage and handling of toxic substances. They are built with a heavy-duty steel construction with durable UV-stabilised high gloss white powder finish.
The use of UV stabilised high gloss white powder finish, also provides the best resistance against corrosion than any other commercially available finish options. Also, it makes it easier to clean and maintain the cabinet with powder coating. Further, it also keeps the superstructure of the cabinet free from oxidation, which prevents rust from forming on its primary steel structure.
Our 100L, 160L, 250L, and 350L storage cabinets feature two self-closing doors with two shelves. One shelf is fixed base and two are adjustable.
All our cabinets on this line feature flush handle for the doors with key locks. Vent ports are also integrated alongside flash arrestors that are fitted on each side of the cabinets.
Another safety feature incorporated in our storage cabinets is a grounding connector. The grounding connector is built in on the outside panel, which makes it easy for earthing. This feature prevents static build up or migrating electrical discharges, thus preventing accidents that might cause the cabinets' contents to spill and cause the contents to react.
Using powder coating for the finish of our cabinets over conventional paint is that it makes it more durable over conventional paint.
Our Indoor Toxic Substance Storage Cabinets are all equipped with self-closing doors. Our 30L and 60L single door cabinets feature with 2 shelves, one fixed base and one adjustable.
All cabinets in this line feature vent ports with integral flash arrestors that are fitted on each side of the cabinet. And they have adjustable feet that are used to level the cabinet on uneven surfaces.
Integrated in our line of Indoor Toxic Substance Storage Cabinets is a suspended perforated floor and spill containment sump with drain. The sump is specifically designed to contain any spillage of materials coming from the contents of the cabinet.
And also to comply with stringent Australian Standards, all our toxic substances cabinets are also compliant for the storage of pesticides. And for compliance, each of our cabinets in this line include a Danger Pesticide Storage label apart from the Safety and Warning signage it also comes with.
Can't find what you need?
If you're unable to find what you're looking for, please call our team for advice.
Speak to us