Indoor Flammable Liquids Safety Cabinets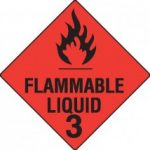 Class 3 – Flammable Liquids (AS1940-2017 – The storage & handling of flammable and combustible liquids)
Our range of Flammable Liquids Cabinets have been designed specifically for the storage of Class 3 flammable liquids.  They are manufactured in Australia to ensure they meet the requirements of  AS1940-2017 (The storage and handling of flammable and combustible liquids).
Features of our range of Flammable safety cabinets include; self-closing doors and, built in vents with flash arrestors, spill containment sump with drain and a yellow gloss lead-free epoxy/polyester powder-coat finish.
With sizes ranging from 30L (ideal for placing on or under work benches), to 850L capacity, we have flammable safety storage cabinets for sale in Australia to meet your requirements.
Description
There are various flammable liquids being used in different businesses and industries ranging from paints, thinners, petrol, acetone, and other extremely volatile substances. Due to their high flammability and volatility, these substances must be stored safely that adheres with your local safety standards.
Deliberate failure to store flammable liquids and substances safely may result in damage to your assets and may also potentially cause harm to people, property and the environment. Businesses located in Australia that use any kind of flammable liquids and substances indoors are required by law to use compliant flammable storage cabinets in accordance with Australian Standard AS1940.
Volatile and flammable substances can potentially put people , property, and the environment at risk. All flammable liquids listed and identified in the Australian Dangerous Goods Code (ADG Code) have a very low flash point that means they can easily ignite and cause a lot of damage in the workplace.
To be able to protect property, people, and the environment from risks associated with flammable liquids and substances, it is extremely important to ensure that you store these substances in a safe manner. This can be done safely indoors by storing flammable liquids using flammable storage cabinets.
Do note however that you just can't use any flammable storage cabinet but one that is manufactured and used in accordance with strict specifications. They not only comply with regulations but they also assure to effectively protect your place of business from risks associated with flammable liquids.
These strict specifications are laid out in AS1940-2017 – The storage and handling of flammable liquids. It is specified in Section 4.9 of AS1940 the guidelines for the construction and proper use of flammable liquids storage cabinets.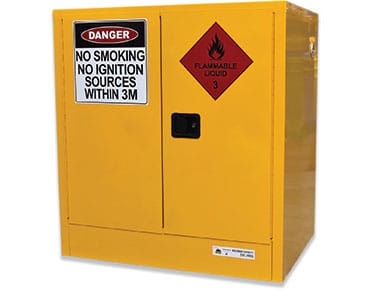 Construction: Our Flammable Liquid Cabinets are built with a double wall construction with an integrated 40 mm thermal barrier. Our cabinet's floor, walls, doors, and roof are made with double walled steel. The gaps in between the steel panels are filled with fire resistant insulations thus adding another level of protection from radiant heat emanating from either internal or external fires that may occur.
The parts that make up the flammable material storage cabinet superstructure responsible for its structural integrity is made up of sturdy materials that will not melt in temperatures below 850 degrees Celsius. Not including the cabinet's seals and gaskets, of course.
The doors of our flammable storage cabinets are constructed with double walled steel and flaunts a self-closing feature. Additionally, the doors also feature a three-point self-latching system. This design is implemented to minimise the exposure of the cabinets content from external elements thus reducing unnecessary risks which may inadvertently be caused by human negligence.
Also integrated in each and every one of our indoor flammable liquid cabinets are liquid-tight sumps that are at least 150 mm deep, which is more than enough for cabinets with larger capacities. The sump is specifically designed to contain only liquid that is spilled inside the cabinet.
The innate strength of the material used in our shelving can sufficiently handle the maximum load the cabinet is rated for, at all times. Additionally, the galvanised steel shelves are perforated to promote free airflow within the cabinet.
Our storage cabinets also feature adjustable feet that ensure absolute stability and proper levelling in moderately uneven surfaces. Our cabinets all feature adjustable feet to ensure absolute stability and leveling even in moderately uneven surfaces.
Our indoor flammable liquids cabinets are sealed and finished and sealed with a very visible, glossy, and lead-free epoxy / polyester powder coating. We chose powder coating over the more traditional and conventional paint since powder coating leaves a more durable finish compared to paint.
To top it all off, safety and warning signage are also pre-applied in its most visible locations of the cabinet in compliance with Australian Safety Standards.
Our storage cabinets have built-in ventilation ports on its walls and integral flash arrestors on each side. The shelves of our cabinets are built using galvanised steel that adds to improving its overall structural integrity.
The venting ports on each side and flash arrestors helps in preventing highly flammable fumes from accumulating inside the cabinet. The perforations in the shelving also serve another purpose of draining any spilled or leaking liquid to the integrated sump located at the bottom of the cabinet.
Another feature we have with our storage cabinets is the inclusion of a grounding connector. This is to avoid any static or electrical discharge accident that might cause the volatile contents of the cabinet to ignite and cause fires. The grounding connector is strategically located on the outside panel of the cabinet for ease of installation and earthing purposes.
The choice of using an epoxy-based coat provides the best resistance against corrosion in comparison to other commercially available options. Not only does powder coating make it easier to clean the cabinet, it keeps the superstructure of the cabinet safe from oxidation, thus preventing rust from forming on its primarily steel structure.
For businesses that handle any amount of flammable liquids, knowing what goes into a quality, regulation compliant, Flammable Liquids Storage Cabinet is a matter of utmost importance. It can be considered as the first line of defense in case of any fire. It also doesn't hurt doing your research and due diligence in complying with safety regulations, having proper firefighting tools and equipment, that is equally important for the safety of your business.
Brief Primer about Indoor Flammable storage
What are flammable liquids, firstly? Flammable liquids like the name implies are liquids that are very volatile that can ignite easily with a spark or ignition source. To be more specific, The Australian Dangerous Goods Code defines flammable liquids as: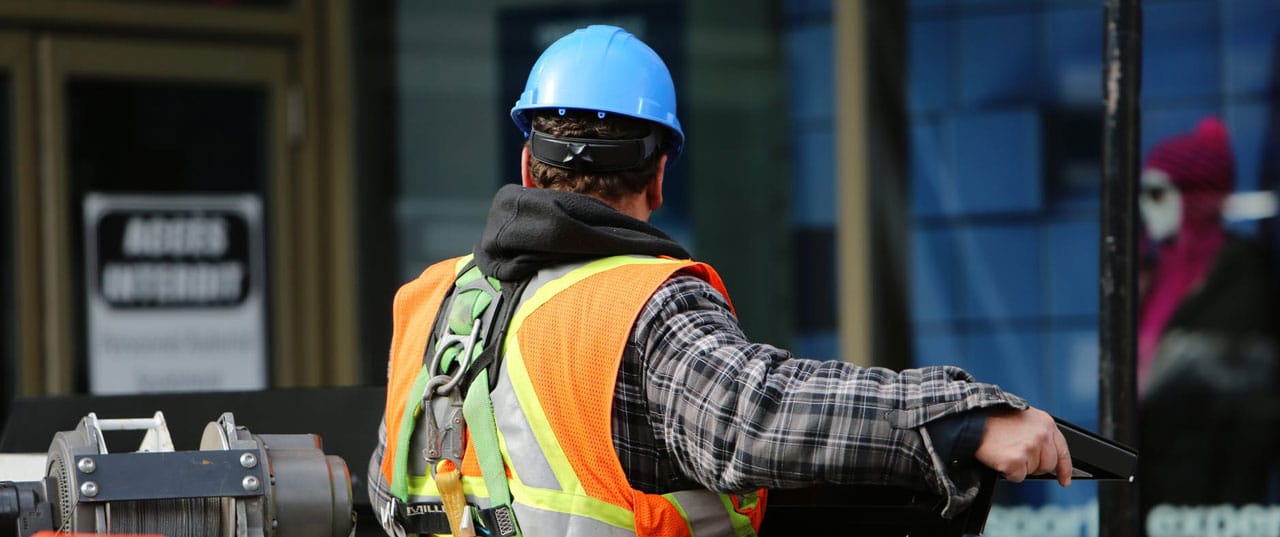 "Flammable liquids are liquids, or mixtures of liquids, or liquids containing solids in solution or suspension (for example, paints, varnishes, lacquers, etc., but not including substances otherwise classified on account of their dangerous characteristics) which give off a flammable vapour at temperatures of not more than 60 °C, closed-cup test, or not more than 65.6 °C, open-cup test, normally referred to as the flash point. This class also includes:
(a) liquids offered for transport at temperatures at or above their flash point; and
(b) substances that are transported or offered for transport at elevated temperatures in a liquid state and which give off a flammable vapour at a temperature at or below the maximum transport temperature."
Now we know the basic and the legal definition of what a flammable liquid is. We should be discussing why it's so important for a company to know and comply with safety regulations, especially when they are handling potentially flammable goods indoors.
Can't find what you need?
If you're unable to find what you're looking for, please call our team for advice.
Speak to us