Transportable Battery Cage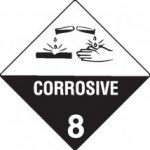 Class 8 – Corrosive Substances (AS3780-2008 – The storage and handling of corrosive substances)
Battery transport cages can be used to store and transport acid batteries to recycling facilities. The device's robust design and clever engineering make it practical to use, even in harsh conditions, such as remote mining sites. It's forklift-friendly and convenient.
In order to provide complete acid-resistance, battery cages are manufactured from high-grade materials, such as galvanised and powder-coated steel mesh with HDPE lining.
Description
Class 8 – Corrosive Substances refer to substances which, by any chemical reaction, may cause severe damage to anything, including living tissues it comes into contact with. In the event of any leakage, it may cause material damage to other goods, or its means of transport.
This standard establishes requirements and recommendations for safe storage and handling of corrosive substances by establishing minimum safety requirements for storage facilities, operating procedures, emergency planning, and fire protection.
One common example of a Class 8 liquid is battery acid. It is highly corrosive and can burn your skin, contaminate the soil and damage whatever it leaks into. Direct contact with battery fluid may cause skin irritations or at its worse cause caustic burns.
Though it can be dangerous, battery acid will not dissolve many plastics such as, polyester, epoxy resin or polyethylene (that is what we use for our cage lining).
Our Transportable and Storage units for batteries are capable of transporting lead acid batteries over large distances, ensuring no damage to their contents occur, even on some of Australia's inhospitable roads.
Sealed lead-acid batteries are already equipped, in itself, with design features that prohibits leakage from the cells. However, there can be instances that these seals get broken. They are also prone to water permeation that can cause damage to the battery.
Therefore, for safety reasons, and also to prolong the life of the batteries, it is important to maintain proper storage of lead-acid batteries.
Lead-acid batteries are also prone to corrosion due to the fact that they are filled with acid. As such, they can cause serious injuries when not handled properly. Additionally, in case of seal breakage, they can emit gasses that are highly flammable.
Though they present a low-fire risk when intact, they are capable of storing large amounts of energy and often utilises volatile or combustible electrolytes, making them prone to catch fire or even cause them to explode.
Any used or waste lead-acid batteries are classified and considered hazardous in Any State or Territory in Australia. Under most State's environmental regulations, it is considered an offence to allow acids to be discharged into the environment.
Used lead-acid batteries should be stored in fully compliant storage devices to prevent the occurrence of any discharge event. Failure to comply with regulations of how lead-acid batteries are stored, handled, and transported can result in your company's (and executives) being deemed liable.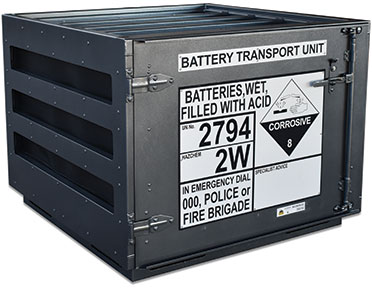 Our Transportable Battery Cage is designed to hold a full pallet of used batteries that will make its storage safe for transport and secure. Our Transport Cage is fully compliant with AS3780-2008 – The storage and handling of corrosive substances.
It is a requirement to comply without exception with this standard if your business tends to store or handle corrosive substances.
It has a total sump capacity of 145L, and can store batteries up to 500 mm high when it is placed on a pallet. And it is also capable of storing batteries of up to 640 mm high when they are placed directly on the bund.
Construction: WSSA Transportable Battery Cages are built using heavy-duty zinc anneal steel. It features Polyethylene (LLDPE) internal lining and bund. Proudly All-Australian Designed and Made.
Its construction allows it to be suitable for use outdoors due to its two coat finish. It is finished with an epoxy undercoat and topped off with a UV stabilised polyester topcoat, ensuring it can handle outside environments.
Our transportable battery cage also features a 270 degree opening door with an ISO locking bar. Additionally, it also has a padlock lug for added security.
The bund inside our transportable batter cage are Type Load tested to 2000 kg by NATA accredited engineers. We can provide a dynamic compression certificate if you so require.
All our transport units are fitted with transport placards in accordance with Australian Dangerous Goods Code 2017 Edition 7.5.
In lead-acid batteries, its internals are made up of spongy or porous lead that are immersed in sulphuric acid and water solution. Improper transport and disposal of such materials can cause high levels of lead contamination to the environment.
Its sturdy construction offers protection against the corrosive properties of battery acid. And it also allows this transportable battery cage to transport lead-acid- batteries over long and large distances, even on the harshest and most inhospitable Australian roads.
They can store lead-acid batteries directly in its bund, or they can also be palletised. Its 145 litre bund capacity is built-in and also feature a removable polypropylene bund grating.
The unit is forklift-friendly and provides access from all four sides, making it easily manoeuvrable, and also allows it to be stacked vertically for easy storage and safe transport.
Short Primer on Lead-Acid Batteries If your business requires it to handle corrosive liquids or materials, extreme care must be taken in consideration. This is due to the fact that Class 8 corrosive liquids will destroy and/or damage anything they come in contact with.
Additionally, breathing in sulphuric acid fumes or vapours can cause severe respiratory irritation and may cause damage to our mucous membranes. Needless to say, prolonged inhalation is harmful. More so if it is accidentally ingested, which may bring mouth irritation, esophagus, throat, and stomach damage.
Can't find what you need?
If you're unable to find what you're looking for, please call our team for advice.
Speak to us