Hazchem info
Wholesale Safety Storage Australia
Information
Hazardous Chemicals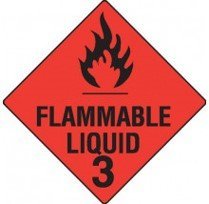 What Are Flammable Liquids, Class 3?
The globally harmonised system (GHS) of classification & labelling of chemicals defines a flammable liquid as a liquid having a flash point of not more than 93°C.
A flammable liquid is classified in one of four categories according to the following table

Category One
Flash point < 23°C and initial boiling point ≤ 35°C
– Carbon disulphide
– Crude oil
– Diethyl ether
– Isopropylamine

Category Two
Flash point < 23°C and initial boiling point ≤ 35°C
– Acetal
– Acetone
– Acetonitrile
– Adhesives
– Benzene
– Cyclohexane
– Ethanol
– Isopropyl alcohol
– Lacquer thinner
– Methanol
– Methyl ethyl ketone (MEK)
– Methyl isobutyl ketone (MIBK)
– Methyl methacrylate
– Petrol
– Tetrahydrofuran (THF)
– Toluene
– Vinyl acetate

Category Three
Flash point ≥ 23°C and ≤ 60°C
– Jet fuel (aviation turbine fuel/JetA1)
– Kerosene
– Mineral turpentine/ White spirit
– Xylene

Category Four
Flash point > 60°C and ≤ 93°C
– Diesel fuel
– Fuel oil
– Heating oil
– Lube oil
– Waste oil
EXAMPLES OF BUSINESS WHERE FLAMMABLE LIQUIDS ARE USED, HANDLED, OR STORED. DOES YOUR BUSINESS CURRENTLY HAVE THE NECESSARY STORAGE SYSTEMS IN PLACE?

Product: Petrol
Business
Service stations

Fuel depots

Hire car depot and service centre

Product: Resins
Business
Manufacturing facilities

Warehouses

Chemical formulators


Product: Enamel paints and thinners
Business
Paint shops and distributors

Large hardware retailers

Product: Ethanol in tanks and packages
Business
Distilleries

Herbal medicine manufacturing

Chemical formulators

Product: Diesel
Business
Power generators

Service stations

Fuel depots

Transport depots

Machinery depots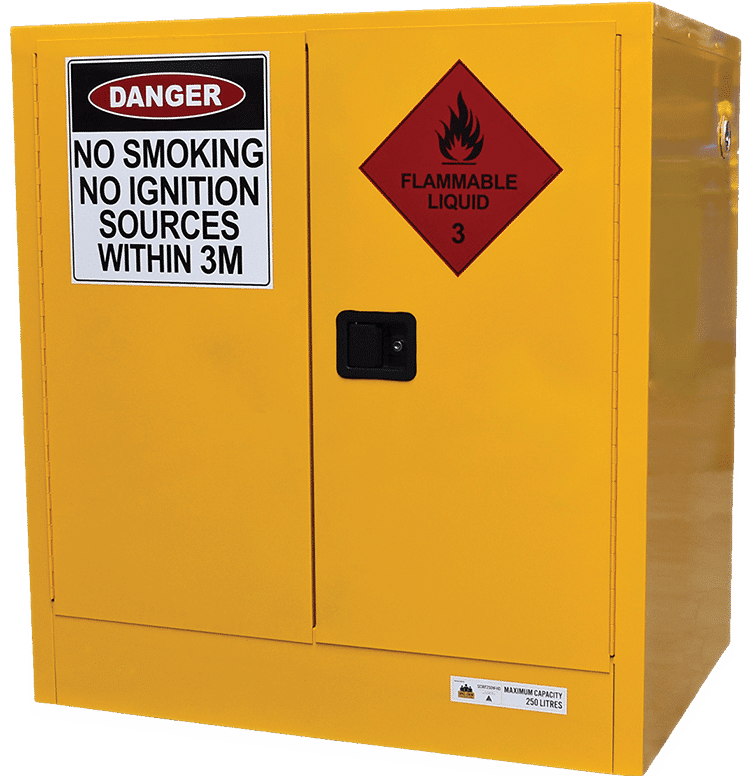 WHOSE RESPONSIBILITY IS IT TO ENSURE FLAMMABLE GOODS STORAGE CABINETS ARE BEING USED?
Fire and explosion can result in catastrophic consequences, causing serious injuries or death of workers and others, as well as significant damage to property.
Prevent Possibility of Fire
A person conducting a business or undertaking (PCBU) must prevent the possibility of fire or explosion from an ignition of flammable substances associated with a hazardous area or a hazardous atmosphere.
Store and Handle Hazardous Chemicals
A person conducting a business or undertaking (PCBU) has specific duties to store and handle their hazardous chemicals (including flammable liquids and certain combustible liquids), including:
preparing, maintaining and implementing emergency planning (sections 43 and 361)

providing personal protective equipment such as organic vapour respirators (section 44)

managing risks from airborne contaminants such as vapours from flammable solvents (section 49-50)

managing risks from hazardous atmospheres for example, where concentration of flammable vapour exceeds 5% of the lower explosive limit (section 51)

managing fire and explosion risks (sections 52 and 355)

keeping the amount of flammable and combustible substances at the lowest practicable quantity (section 53)

labelling pipework (section 343)

if manifest threshold quantities of hazardous chemicals are involved, providing a manifest and site plan (PDF, 726.43 KB) (section 347) and notify Workplace Health and Safety Queensland of this circumstance (section 348)

ensuring storage areas are appropriately placarded (sections 349-350) and safety signage erected (section 353)

containing and managing leaks and spills (section 357)

protecting containers (e.g., tanks and vessels), associated pipework and attachments from damage (section 358)

providing appropriately designed and built fire protection systems (section 359)

controlling risks associated with storage and handling systems such as drums, intermediate bulk containers (IBCs), tanks, vessels, processing equipment and associated equipment (section 363).

Flammable and combustible liquid licensing
Flammable and combustible liquids (FCL)
Flammable and combustible liquids (FCL) constitute by far the largest group of hazardous chemicals used in Queensland. The most common FCL in the community are petrol, kerosene and diesel fuel.
The safe storage and handling of flammable and combustible liquids is now covered by requirements in Chapter 7.1 of the WHS Regulation (hazardous chemicals) which are regulated by WHSQ.
FLAMMABLE GOODS STORAGE THRESHOLDS
Any storage of FCL in quantities not exceeding those listed in this Table (2.1 of AS1940), may be regarded as minor storage quantities.
The underlying concept of minor storage for the purposes of AS1940 is that quantities below a certain level are so small, or so scattered and separated, that they present little risk, add little to a building's fire load, and are generally unlikely to play a significant part in spreading a fire from place to place.
The fire-fighting facilities required under normal building regulations are expected to cope adequately.
WHAT ARE THE OTHER CLASSES OF DANGEROUS GOODS/HAZARDOUS CHEMICALS (HAZCHEM)?
Dangerous Goods are substances that are corrosive, flammable, explosive, spontaneously combustible, toxic, and oxidising or water reactive. These goods can be deadly and can seriously damage property and the environment. Therefore, it's important that they are stored and handled safely.
Examples of hazardous chemicals include:
Each substance or article of Dangerous Goods named in the Code is assigned to a particular Class relating to its primary hazardous property. The Classes are as follows: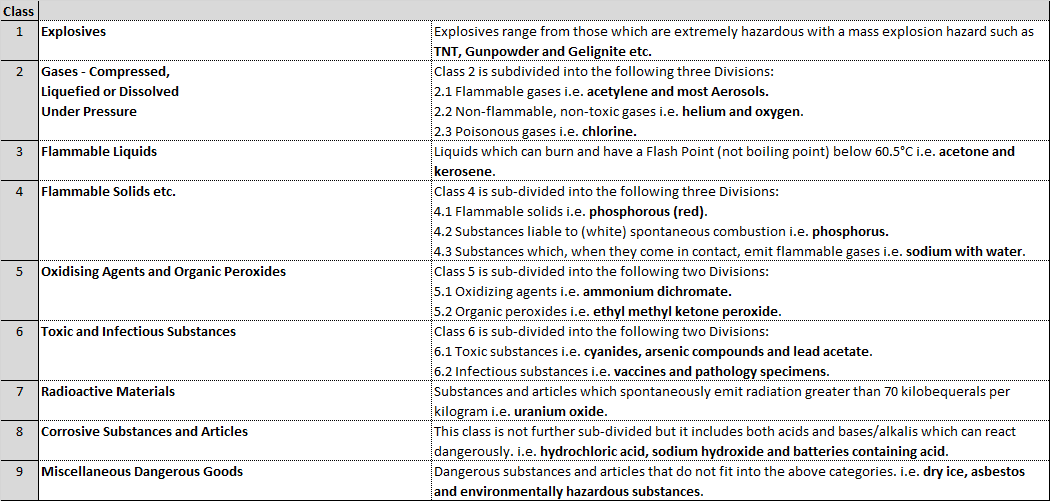 – paints
– drugs
– cosmetics
– cleaning chemicals
– degreasers
– detergents
– gas cylinders
– refrigerant gases
– pesticides
– herbicides
– diesel fuel
– petrol
– liquefied petroleum gas
– welding fumes
– asbestos
– flammable liquids
– gases
– corrosives
– chemically reactive or acutely (highly) toxic substances.
WHAT ARE THE HAZCHEM WARNING SIGNS?