Aerosol Can Storage Cages
What is Aerosol can storage
There wouldn't be many days in your life that you don't use an aerosol can. Deodorant, spray paint and fly spray are products that most people would use in everyday life, but did you know that they are classed as Class 2 Dangerous Goods. Hidden within the can that you hold in your hand are complex chemical properties that if not treated with care can end in disaster. Disposing of your aerosol cans is important but from a business perspective where and how you store them could be a lifesaving decision.
You will have noticed now that when you take a trip to the hardware store to buy spray paint that they are now stored in a cage. This is because they need to be stored in accordance with AS/NZS 3833-2007 under the Australian Dangerous Goods Code. As well as saving space there are six major reasons that you should store your aerosols in a cage.
Security – Keep them locked and out of reach.
Weather Projection – Stable environment, aerosols don't like swings in temperature.
Projectile Protection – if there is an accident the cage will provide protection.
Shelving/Storage – plenty of safe shelving.
Ventilation – helps to cool the cans.
Isolation – store the cans in an isolated area in your workplace or home.
WSSA have seven different size options for storage of your aerosol cans and depending on your stock levels and style of business there is no doubt that WSSA can help you come up to code. The cage sizes available are –
12 can capacity – 50cm (w) x 26cm (d) x 40cm (h)
32 can capacity – 62cm (w) x 34.5cm (d) x 40cm (h)
64 can capacity – 62cm (w) x 34.5cm (d) x 71cm (h)
132 can capacity – 66.5cm (w) x 46.5cm (d) x 105cm (h)
220 can capacity – 62cm (w) x 46.5cm (d) x 172cm (h)
440 can capacity – 125cm (w) x 46.5cm (d) x 172cm (h)
850 can capacity – 165cm (w) x 53.5cm (d) x 172cm (h)
All cages are fitted with solid steel floor and roof.
Made from Heavy duty powder coated steel.
Comes with Class 2 Flammable Gas warning and safety signs.
Magnetic latches on the doors, can be locked with a padlock.
Smaller cages can be mounted on a bench and the bigger cages can be bolted to the ground.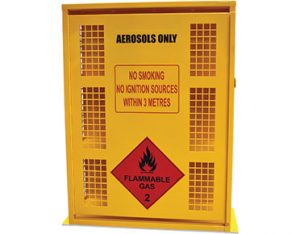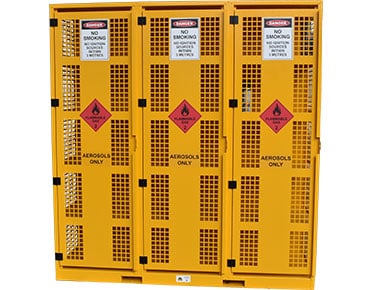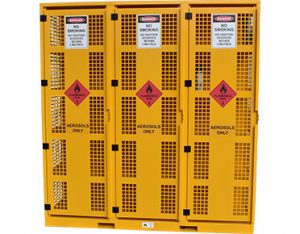 Aerosol cans are categorised as a Class 2 Dangerous Good in the Australian Dangerous Goods Code and should be stored in accordance with AS/NZS 3833-2007.
Safety storage cabinets for dangerous goods are important for keeping your workplace safe. Our range of chemical safety cabinets, flammable storage cabinets, flammable safety cabinets, toxic / poison storage cabinets, pesticide safety cabinets and gas cylinder cages are the ideal storage devices for your workplace.
The team at WSSA are experts in the field of dangerous goods storage and If you are storing Aerosol cans whether for recreation or for business purposes WSSA have the perfect solution for you.
Can't find what you need?
If you're unable to find what you're looking for, please call our team for advice.
Speak to us