Ensure your workplace is prepared if staff members are exposed to dangerous chemicals with our emergency eyewash and facewash units.
Chemical splashes can cause permanent eye injuries within 1-5 seconds. Washing that has commenced within a few seconds can be decisive in minimising eye damage.
Emergency eyewash and facewash units deliver essential first aid in the event of exposure, wherever chemicals, oils and fuels are handled.
Description
Ensure your workplace is compliant and your personnel and staff are ready to address exposure to dangerous chemicals with the use of our emergency eyewash and facewash units.
Accidental chemical splashes can cause permanent eye injuries within 1-5 seconds. Washing the face and eyes done within the first few seconds of contact can be decisive in minimising damage to the eyes and skin.
The first seconds of exposure to hazardous chemicals, especially if they are corrosive substances, are critical. Delay in treatment, even for a few seconds, may cause serious injuries. In rare cases, they may even come between life or death.
Eyewash and Face Wash units are an essential first aid solution in the event of accidental exposure and contact to chemicals, oils, and fuels. Eyewash stations can provide on-the-spot decontamination.
Having such a facility allows workers to flush away hazardous substances that can cause injury, should they happen. Emergency face and eyewash stations are a necessary backup to minimise accidental exposure to hazardous chemicals.
Regardless of how careful and strict with safety protocols a job site may be, accidents can still occur. For this reason, it is a must to look beyond the use of safety goggles and protective equipment.
Let's face it, spills and accidents happen. While we cannot spill beer at work, we do spill other things. When we get distracted while working, we can knock over 5-gallon buckets of chemicals, run forklifts into IBCs, burst hoses when fixing machines, and fill drums with chemicals. It can potentially happen to everyone, eventually.
When alarming situations like these happen, there should be no cause for panic or worry, we just need to be ready. We at Wholesale Safety Storage Australia (WSSA) provide our line of emergency face and eyewash systems that can help with such eventualities.
Eye injuries at work are one of the most common forms of accidents that happen in the work place. If your workers are at risk, an eyewash station that is certified by the CSA to meet ANSI Z 358.1-2009 and complies with Australian Standard AS 4775-2007 is an essential you can't do without.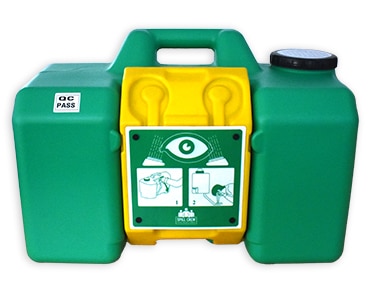 Here at WSSA, we provide three emergency face and eyewash units that you may install in your workplace.
Eyewash Wall Stand – 2 × 1L Bottles
Eyewash Wall Stand – 5 × 1L Bottles
Portable Gravity Fed Eyewash System – 35L Tank
Tobin Eyewash Stands come in two and five 1 litre bottles containing Sterile Saline Solution. They can be wall mounted and is highly suitable, especially if space is a problem. They are supplied complete with bottles, the wall stand and wall screws for installation.
It's hard plastic wall mounted stand construction supports the bottles tightly. The bottles are specially designed to empty fast under gravity. The shelf life of the unit is three years from the date of manufacture.
Tobin Eyewash Stands have been designed for stationary workplace applications. The units are secured to hold the saline solution bottles by their caps. To use in an emergency, simply break the cap and the air vent on the base of the bottle.
Its eyewash bottles do not have moving or any mechanical parts which can cause it to malfunction. New or unopened bottles can be replaced into the portable eyewash unit.
Irrigating or washing the eyes (and face) as soon as possible after a chemical exposure is the most critical factor in minimising eyes and tissue damage. Workers who are able to flush their face and eyes in the least time possible have been documented to have lesser severe injuries and require a shorter hospital visit.
Tobin Eyewash is designed for industrial use and is an effective, safe, and sterile eyewash. An eyewash should be quick, safe, and simple to use. Temporarily blinded or confused persons can easily identify the uniquely shaped bottles as a safety face and eyewash unit.
Tobin's eyewash units are a well-proven, safe and quick way to wash hazardous chemicals from the eyes. The specially designed system delivers the fastest possible application combined with a volume large enough for most eye accidents.
Tobin Eyewash Wall Stands are ideal for warehouses, workshops, first aid rooms or any other area in the workplace accessible by all staff and personnel.
A Tobin Eyewash System bottle provides about 3 minutes of washing time, and a standard five-bottle stand provides the recommended 15 minutes. Auxiliary bottles can be easily removed from the stand and taken with the patient during transportation to the doctor.
The Eyewash bottle must be used quickly or thrown away after opening. Unopened bottles have a shelf life of 3 years, and the expiration date is clearly marked on the side of each bottle.
Portable Gravity Fed Eyewash System is a 35 L portable gravity operated eyewash unit. The FDA high-density green polyethylene tank provides a full 15-minute full pattern flushing at 1.5 litres per minute that complies with ANSI Z 358.1 and AS4775 Standards.
The unit comes supplied with wall brackets bacteriostatic additive to allow the storage of water for up to 6 months. Its wide-fill opening with threaded cap permits easy inspection, cleaning and filling.
The unit is compact and portable. It operates through gravity and is an ideal solution for locations or sites without plumbing such as mining, agriculture and construction. Its portability makes it easy to transport to provide emergency eyewash capability near hazard areas, reducing on-the-job eye injuries.
Our Portable Gravity Fed Eyewash System can be mounted on walls or placed in carts.
The 35L portable eyewash unit is gravity operated and can provide continuous flow for 15 minutes.
It is simple to operate by pulling down the high visibility fold down arm allows for hands-free operation.
Its spray outlets are protected from dust, dirt and airborne contaminants when the arm is folded up.
Ideal for areas without access to water sources.
Small and compact, making it perfect for remote locations
Pinch valve ensues positive water flow for a full 15 minutes at 1.5 litres per minute.
The gravity operated face and eyewash unit can be placed virtually anywhere on the job site thanks to its shelf, table, or wall mounting options.
Can't find what you need?
If you're unable to find what you're looking for, please call our team for advice.
Speak to us