Indoor Corrosive & Chemical Storage Cabinets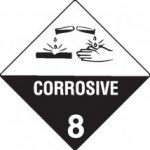 Class 8 – Corrosive Substances (AS3780-2008 – The storage and handling of corrosive substances)
Our range of Corrosive/Chemical Cabinets have been designed specifically for the storage of Class 8 liquids.  They are manufactured in Australia to ensure they meet the requirements of  AS3780-2008.
Features of our range of Corrosive/Chemical safety cabinets include; self-closing doors and, built in vents with flash arrestors, spill containment sump with drain and a glossy blue, lead-free epoxy/polyester powder-coat finish.
With sizes ranging from 30L (ideal for placing on or under work benches), to 350L capacity, we have the safety cabinets to meet your requirements.
Description
Corrosive substances are chemicals that can potentially damage your property and the environment, and can also be very hazardous to people as well. Depending on their potency, the hazardous property of various corrosive chemicals is their propensity to dissolve matter through chemical reactions.
These chemicals are usually classified as either acids or bases. Acids are either organic or inorganic. Organic acids are compounds that have acidic properties. Common examples are lactic acid, acetic acid, citric acid (vitamin C), and more. Examples of inorganic acids are sulphuric and hydrochloric acids. Bases that are corrosive are typically inorganic and include substances like ammonia and sodium hydroxide.
Apart from acids and bases, there are other substances that can be corrosive as well. Substances like chlorine, bromine, and other oxidising agents are likewise just as corrosive. Check the Substances Material Safety Data Sheet or (MSDS) and product labels to see if the substances you are handling have corrosive properties.
Special care has to be taken when handling, working, and storing corrosive materials Where corrosive materials are concerned, damage begins at first contact with skin or any surface. Brief or prolonged exposure can lead to some rather unpleasant ailments, and may even cause death, if left untreated.
Once exposed, the extent of damage or injuries these corrosive substances may bring are entirely dependent on the strength and concentration, as well as the duration of contact of the substance or substances involved. Do note that exposure to corrosive substances and chemicals can be toxic and can cause other health issues if proper treatment is not done immediately.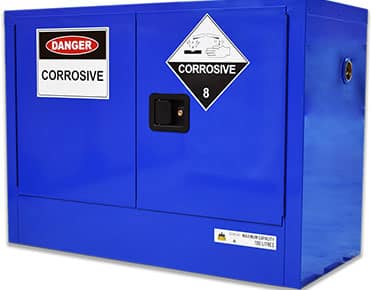 In the storing of corrosive substances, especially indoors, it is important to take precautions and make sure that the storage is specially designed to minimise potential risks that corrosive materials and substances may bring to your business. This can be achieved by designing and manufacturing storage cabinets that strictly adhere to Australian Standards without any deviations.
CONSTRUCTION: Wholesale Safety Storage Australia's Indoor Corrosive | Chemical Storage Cabinets are designed with a double wall construction with the inclusion of an integrated 40 mm thermal barrier. Our cabinet's floor, walls, doors, and roof are made with double walled steel. The gaps in between the steel panels are filled with fire-resistant insulation that adds another level of protection from radiant heat emanating from either internal or external fires that may occur.
Our Indoor Corrosive | Chemical Storage's superstructure (the parts that are critical to its structural integrity) is made up of materials that will not melt in temperatures below 850 degrees Celsius. This does not include the cabinet's seals and gaskets.
The walls of our cabinets feature built-in ventilation ports and integral flash arrestors on each side. To further improve the structural integrity of our cabinets, the shelves are specially made using galvanised steel. The innate strength of the material means that our shelving will be able to withstand the maximum load the cabinet is rated for, all the time.
As an added feature, each shelf is lined with a chemically resistant thermoplastic coating. This coating ensures a long-term protection against corrosive substances.
Another feature we have with our corrosive storage cabinets is the inclusion of a grounding connector. This is to avoid any static or electrical discharge accident that might cause the volatile contents of the cabinet to ignite and cause fires. The grounding connector is strategically located on the outside panel of the cabinet for ease of installation and earthing purposes.
To top it all off, safety and warning signage are also pre-applied in its most visible locations of the cabinet in compliance with Australian Safety Standards.
Integrated with every one of our Indoor Corrosive | Chemical Storage cabinets, is a liquid-tight sump that is at least 150 mm deep (more capacity for cabinets with larger capacities). The sump is designed to contain only liquid that may have spilled or leaked inside the cabinet.
Additionally, the galvanised steel shelves are perforated to promote free airflow within the cabinet. Coupled with the venting ports on each side and flash arrestors helps in preventing highly flammable fumes from accumulating inside the cabinet. The perforations in the shelving also serve another purpose of draining any spilled or leaking liquid to the integrated sump located at the bottom of the cabinet.
Our storage cabinets also feature adjustable feet that ensure absolute stability and proper levelling in moderately uneven surfaces.
Our cabinets are finished and sealed with a highly durable and very visible UV stabilised powder coating. We chose powder coating over the more traditional and conventional paint since powder coating leaves a more durable finish compared to paint. Not only does powder coating make it easier to clean the cabinet, it keeps the superstructure of the cabinet safe from oxidation, thus preventing rust from forming on its primarily steel structure.
Another potential risk that may arise from handling corrosive materials is when it comes in contact with your eyes. This may lead from mild to severe irritation, or may even lead to temporary or permanent blindness. The inhalation of vapours and fumes from corrosive substances that are caused by their reaction to different materials can potentially irritate and burn your throat, windpipe, the lining of your nose, and may damage your lungs.
If you accidentally swallow any corrosive substance, it can pretty much burn whatever internal organ it touches or passes through. Contact with skin is the most common accidental interaction with corrosive substances. This can lead to immediate irritation, dryness, to severe damage from the point of contact. Prolonged contact and exposure can also potentially lead to extreme effects such as systemic organ damage or failure.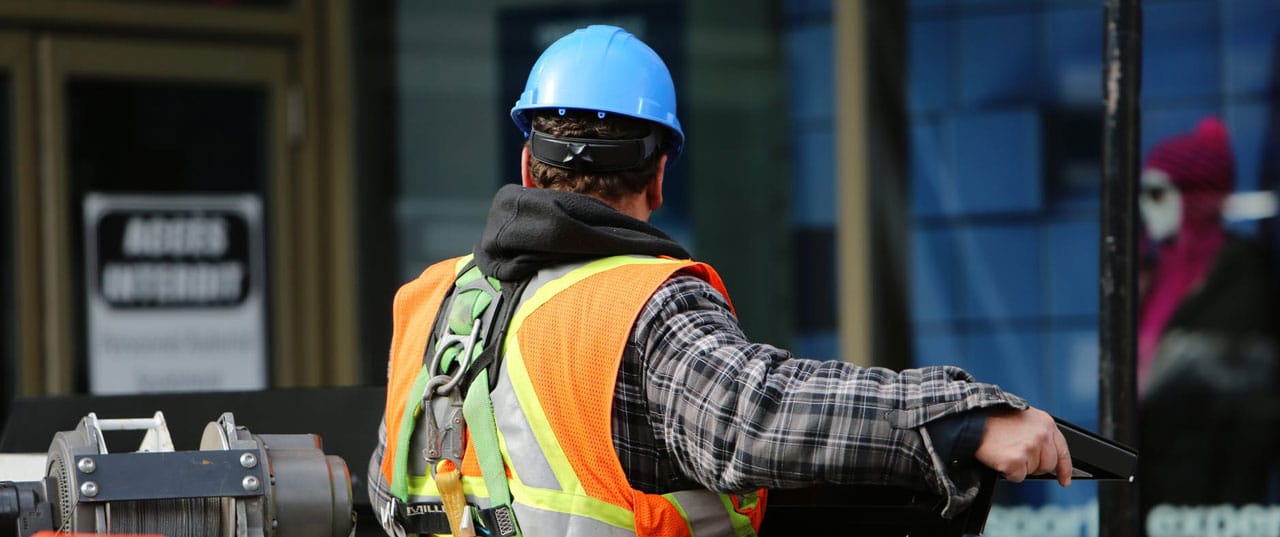 Corrosive substances can also cause non-biological damage because they can destroy metals. Damaged metals can lead to compromising the integrity of containers, equipment and even building materials and installations. The danger and damage is elevated when more potent corrosives are added to the equation, more so if high temperature is present.
Apart from damage to metals and other materials, one element that you have to look out for is the presence of hydrogen. It is the common byproduct of corrosive reactions. Hydrogen is highly combustible and can cause fires and even explosions from a single spark. An unforgettable example of this is the case of the Hindenburg. The blimp used hydrogen, which, as we mentioned, is highly flammable and explosive once ignited.
For reasons such as these, the handling and proper storage of corrosive chemicals is of utmost urgency, as it is also of prime importance in handling flammable materials. We at Wholesale Safety Storage Australia only offer Indoor Corrosive | Chemical Storage that is fully compliant with strict Australian Standards.
Can't find what you need?
If you're unable to find what you're looking for, please call our team for advice.
Speak to us