Your browser does not support the video tag.
Protect stormwater drains with our stormwater drain covers in the event of a spill
Manufactured in Australia with chemical-resistant 1000gsm urethane
Chose from 3 sizes in the drop down list: 60cm, 90cm, 120cm
The size selected should overlap your drain grate by at least 10cm
Includes a canvacon carry bag with velcro closure for storage and handling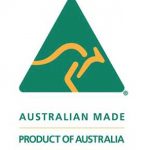 Unauthorised discharges into the storm drainage system can come with hefty penalties for businesses.  Our urethane drain covers are a relatively inexpensive solution to help avoiding costly fines.  They are designed to form a tight seal over the drains to prevent spills from entering.
Our stormwater drain covers are thick, yet lightweight and flexible.  They are quick and easy for one person to move in to position when time is a factor.  They are Manufactured in Australia with chemical-resistant 1000gsm urethane
The sticky polyurethane material moulding easily to even or uneven surfaces, forming a tight seal over the drain.  The heavy duty polyurethane construction is resistant to a wide range of chemicals, fuels and oils.
Our stormwater covers are re-usable and easy to clean with soap and water once a spill is contained and cleared.  The life expectancy is approximately 5 years (do not leave in direct heat for extended periods of time).
Please select sizes from the drop down menu.  Sizes are:
60cm x 60cm x 1.7cm (5kg)
90cm x 90cm x 1.7cm (7kg)
120cm x 120cm x 2.0cm (11kg)
The stormwater drain cover/protector comes with a canvacon carry bag with velcro closure for storage and handling