Indoor Organic Peroxides Cabinet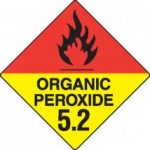 Class 5.2 Organic Peroxides (AS2714-2008 – The storage and handling of organic peroxides)
Our indoor organic peroxides safety cabinets are specifically designed and manufactured in Australia to meet the requirements of AS2714-2008: The storage and handling of organic peroxides.
AS2714-2008 places restrictions on storage quantities of organic peroxides indoors. The maximum limit for storing Class 5.2 organic peroxides within an indoor safety cabinet is 100L.  Accordingly, the three sizes of safety cabinet available for class 5.2 organic peroxides are 30L, 60L and 100L capacity.
Organic peroxide safety cabinets feature self-closing door with pressure release catches, double wall construction with 40mm thermal barrier and vent ports with integral flash arrestors fitted on each side.
Can't find what you need?
If you're unable to find what you're looking for, please call our team for advice.
Speak to us