Class 3 Flammable liquids, such as paint, fuel and oil, must be stored in an appropriate cabinet when used for business or personal needs. Whether dealing with chemicals (class 8 dangerous goods), flammable liquids (class 3) or gas bottles (class 2), having the correct container at the ready will ensure you maintain the best levels of health and safety.
We have many product options available depending on the hazardous materials you are storing. Our range has everything you need to protect your staff, assets, and business property. Read on to find out more about these high-quality products.
Class 3 Flammable Liquids Cabinets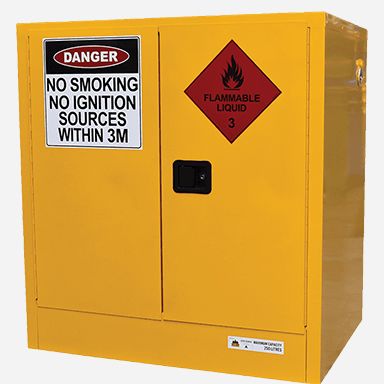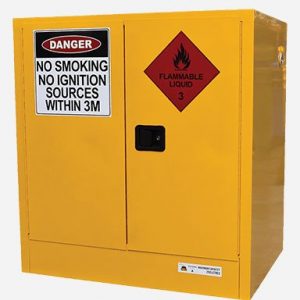 There are many flammable liquids you may need to store and keep safe within your area. These include adhesives, ethanol, isopropyl alcohol, paint, fuel and oil.
However, if these liquids ignite, they pose a severe hazard if not properly stored. In industrial spaces, where sparks may be common, improperly stored liquids can be a significant safety concern.
It takes one spark to ignite these hazardous substances, and if spilled or leaking, they could quickly spread around the area. Flammable liquids cabinets will have the required airflow and design to combat potential fume buildup.
In addition, a bunded catchment area at the base will catch any leaks over time. Expertly designed according to Australian Standards, our dangerous goods cabinets ensure you can safely store flammable liquids responsibly.
Class 2 Gas Bottle Storage Cages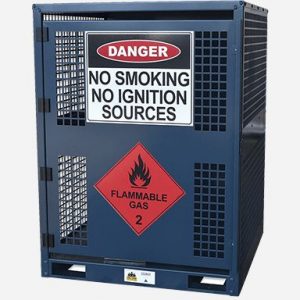 Gas bottles always need to be stored away correctly. If not put in a suitable storage unit, they can easily create pressure within the space and increase the risk of an unexpected explosion.
If leaking or faulty, these pressurised bottles will slowly release gas into the surrounding area. These cabinets will incorporate mesh to increase airflow into their design.
This design ensures that any gas leaks can be dispersed effectively, and in the case of combustion, the cage will help deter shrapnel. Having the proper gas bottle storage cage can protect your staff and building, containing these bottles in case of fire, and protecting them when accidents occur.
A large range of Australian-made cabinets is available for storing flammable liquids. According to Australian standards, this will give you peace of mind that you operate in a safe environment.
Our flammable liquids storage cabinets will help you contain these dangerous goods, protect them from external hazards, and protect your staff and property from potential disaster. Contact us today to find out more.