Aerosol cages are a much-needed containment solution for several settings. Used in both industrial and private areas, it is best to understand the benefits of these units and why you need them on-site.
Our professional team of experts can guide you through the range, assisting you in choosing all the ideal storage solutions for your on-site needs. These storage units ensure both ventilation and protective elements to separate any products being used from potential hazards around them.
Read on to find out more about these steadfast solutions.
Substances Can Be Highly Flammable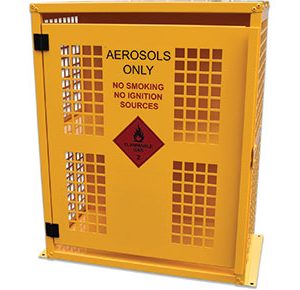 These elements and containers that need to be stored use propellants and solvents to dispense the active ingredient from the can and maintain an even consistency. Hydrocarbons,  methylal, and dioxolane are all highly flammable. Not to mention that most of the other active ingredients in aerosol cans are also flammable.
Aerosols can easily be set alight if exposed to extreme heat or fire. Therefore, they need to be stored within a separate enclosure to ensure protection and safety.
What Is A Dedicated Storage Unit?
A dedicated aerosol cage is manufactured according to strict Australian Standards, which assert restrictions and codes for storing and handling gases in cylinders. These containment solutions fulfil many essential functions within the workspace to ensure safety at all times.
Ventilation
As these units have perforated walls, they are well and naturally ventilated at all times, ensuring no build-up of fumes and pressure. If a canister should leak, all flammable elements will be safely ventilated away from the container.
Projectile Protection
These designs also feature heavy-duty steel construction, which offers projectile protection. This means that in the case of a can, or multiple cans exploding, the outer frame of the container should catch almost all the debris. The explosion would be contained within the cabinet.
Weather Protection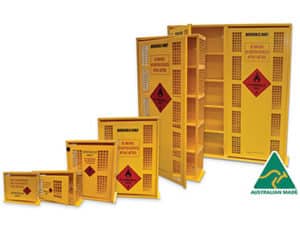 These storage solutions also keep the containers and items undercover, protected from the weather and sunlight that could otherwise damage the containers over time. Weather exposure can cause corrosion which may interfere with the valve and button components, while direct sunlight can deteriorate the can or cause it to overheat and explode.
Aerosol cages are a much-needed item when working with these kinds of products in your space. With our professional range of solutions, you can get all the protective storage units you need. Contact us today to find out more about our solutions.