Gas bottle storage is best delivered through a cage option for sale. These durable and intelligent designs are the best way to contain and protect these resources and still allow for air to flow and any leaks to dissipate into the air around.
In addition, these high-quality units ensure that you can store these items around your home or business without adding risk to the situation. Read on to find out more about these safety solutions.
Free-flowing Air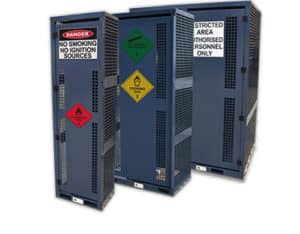 These container units are designed in such a way that they utilise a combination of grid pattern metal and solid sheets. This ensures a range of holes around the unit to allow for the free flow of air while maintaining the substantial sections to preserve durability and integrity.
The free flow of air is integral as it ensures that the temperature inside is regulated and ensures that any potential leaks can be taken away from the area with the cycled air, rather than building up pressure within a closed case. As many of these gasses are flammable, having a build-up of pressure can lead to several seriously dangerous situations.
Durable Design
These cage units are made from durable steel, which can handle both damages externally and internally. This serves both these purposes for safety, as in an industrial setting.
Many elements could pose a risk to pressurised bottles. As a result, you can reduce the impact taken to reduce the risk of explosion or leaking. In the same way, it also ensures that if an explosion does occur within the container, it can protect anyone around it with its sturdy design.
Shrapnel Protection 
These units are also designed to change the trajectory of shrapnel in the case of explosion or rupture. As these elements are pressurised within metal, a high-pressure explosion will cause metal pieces to fly out in all directions.
With the cage design and the solid steel sections, no material can actively make its way out of the containment unit unless it has been drastically slowed and impacted by the structure of the container. This makes sure that all risks within the immediate storage area are significantly reduced.
A gas bottle cage is an ideal storage unit for sale to project both you and your needed resources. Whether working within an industrial setting or lab, you need to ensure safety storage.
These units give you needed peace of mind. Contact us today to find out more about these solutions.