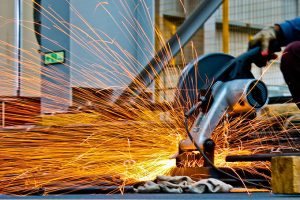 In Australia, it is a requirement for business organisations to have systems in place to implement and monitor obligations laws set forth by the Workplace Health and Safety (WHS), also known as the Occupational Health and Safety (OH&S). They are involved in the management of risks, health and safety involving everyone in your workplace.
Every business owner has to comply with legal requirements to ensure that your establishment is a safe place for everyone, not only your employees. A safe workplace also ensures the long-term success of your business.
Implementing safe practices and installing safety equipment may initially cost money, but being lax that results in accidents or injuries could also result in fines, prosecution, and loss of skilled staff. Not only that, your business reputation would be put in a bad light.
A safe workplace ensures to:
Retain your staff
Help maximise productivity
Reduce worker injury and illnesses
Potentially reduce sick leaves and absenteeism
Reduce the costs of injury and workers' compensation
Meet legal responsibilities and employee obligations
Each organisation must have systems in place to be able to comply with their obligations under relevant WHS laws. Not only will these ensure the safety of workers, their clients, and suppliers, a general health and safety policy it also demonstrates that there is a commitment to ensuring high standards of health and safety.
Two words that strike fear into the heart of most business owners may have to be 'regulatory compliance.' In Australia, regulations are increasingly stiff and penalties are even fiercer.
Businesses should make it standard policy to have:
1.  Risk assessments. The first step toward a safer workplace is to undertake a professional workplace risk assessment to identify all potential risks that lurk in your workplace. This should be included in your overall health and safety policy and should be done. Once that is done, you may then go on and take all necessary precautions.
2.  Employee consultation. Make it easy for your employees to have an open dialogue with you regarding health and safety concerns. Provide avenues that will make it easy for them to report hazards immediately or potential areas of concern you might have missed.
3.  Plant and equipment maintenance. The right equipment and proper equipment create better products and promote a safer work environment. Maintaining the plant and ensuring that all equipment is cleaned, serviced and regularly inspected will prevent malfunctions that can potentially cause workplace hazards.
4.  Safe handling and use of hazardous chemicals and substances. These can pose a significant health and safety risk. If not managed correctly, they may have serious health hazards, physical hazards, and possibly both. Under WHS regulations, you have specific duties to manage the risks to health and safety associated with the use, handling, generating and storing hazardous chemicals at the workplace.
Apart from proper handling, it is doubly important that these substances be kept in safe storage containers and cabinets that meet Australian standards. 
5.  Proper information, clear instructions, and supervision. If employees have the proper information, instructions, and supervision that directly relates to their jobs, it reduces the company's liability should any untoward incident occur. This reduced risk of liability, should an employee not follow proper procedure, may save your company from huge fines and other penalties.
It also helps to mark hazardous zones. This will keep employees aware of dangerous surroundings and help them avoid accidents that may cause serious injuries, as mandated by The Australian Standards AS 1319:1994.
6.  Proper delegation of authority and responsibility. Delegation is an enabler in organisations. Delegation of authority and taking responsibility is not all about just giving orders and expects everyone to follow or even get along. It's a two-way process that needs careful thought and planning to succeed.
If managed well, it can greatly improve efficiency and productivity in your workplace. On the contrary, if it is managed poorly, it may also lead to low staff morale, poor performance and non-delivery.
7.  Worker and staff training. Training can provide companies, their workers, officers and managers, with skills necessary to identify potential risks and how to minimise these risks in order to create a safe work environment for all.
8.  Provisions in handling accidents, first aid, and mental health. Partnering with occupational clinicians can provide valuable insights into workplace injury prevention. They can assist you by visiting your worksite and help you identify which areas might cause a high risk of injury. Physical and occupational therapists can also help you improve and develop human performance evaluations.
Providing employees with first aid stations and first aid training is also a practical way to deal with emergency situations.
9.  Continuous monitoring of hazards and risks. Workplace injuries are of serious concern and in most cases can be and should be avoided. While providing a safe work environment is the responsibility of the company, workers should also understand that they are part of the business machinery and also carry with them the burden of keeping themselves and their co-workers safe.
10.  Emergency procedures for any eventualities. You can expect natural disasters in Australia, and you can even expect fires to happen. Unfortunately, emergencies never announce themselves, so it is up to you to be prepared if you want to ensure the safety of your business and your employees. It is also important that you have employees who have completed Emergency Response and Evacuation Training. 
For businesses that handle any amount of hazardous chemicals and substances, knowing what goes into a quality, regulation compliant, storage equipment is of prime importance. It is your first line of defence in case of any untoward eventuality. It is always best practice to do your research, and observing proper safety regulations is equally important in ensuring the safety of your business.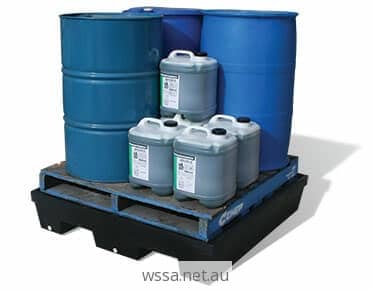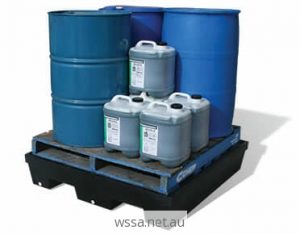 We at Wholesale Safety Storage Australia are glad to offer Australian made, regulation compliant and reasonably priced storage equipment in various sizes and configurations to cater to whatever your company requires. To learn more about our safety storage products and what they can do for you, do visit our articles page.