Flammable storage solutions are a must-have safety element that can protect not only your industrial resources, but also your workers around your business space. When working within these industries and needing potentially hazardous materials around, having the best possible cabinet solutions ensures the protection of your area and your teams at all times, keeping productivity flowing smoothly.
Read on to learn more about the importance of having these solutions available.
Key To Preventing Accidents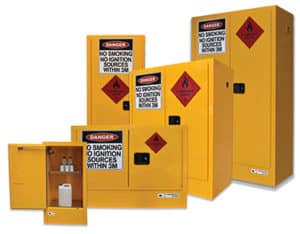 The best way to prevent accidents in a laboratory or industrial setting is to keep any dangerous chemicals organised, secure and safe in a separated cabinet. When you have the suitable cabinet options available, you can ideally suit your resources with the best safety measures to put in place.
Without the correct elements in place, not storing these chemicals and materials could lead to severe accidents and, in turn, loose in both money and productivity.
Prevent Damage Or Injury
When chemicals leak while packed away, it can cause serious harm to anyone exposed and the surrounding materials that may be contaminated. This situation could create significant problems for everyone in the area. In addition, leaks and spills without management can damage facilities or cause severe accidents, leading to far worse instances.
Our flammable safety cabinets are designed to collect leaks in a sump in the bottom of the cabinet that gathers drips for easy disposal. This tray ensures that they are contained and easy to manage even when leaks occur without risking damage to the surrounding space.
Help Prevent Explosions 
Arguably the most critical safety element regarding these cabinet solutions is that they help prevent explosions in the case of spark or fire. When these materials are locked away safely, they cannot be reached by fire and high temperatures, and in the case of a complete meltdown, this will delay the time it takes for the chemicals to be impacted by heat.
Not only does it help to prevent external issues, and contains any leaks that may occur without letting the contents spill out of the cabinet.
Required By Law
These cabinets are required by law in many industries and settings where handling these materials is commonplace. In addition, many safety codes require safety cabinets for anything that may catch the light.
Note that the code also limits the number of volatile chemicals stored in a single cabinet, meaning you need to provide for several factors and take many elements into account.
When you have reliable flammable storage solutions within your business, you can protect your investment, resources and workers to maintain your operation. When you have professional solutions, you can maintain safety at all times. Contact us today to find out more about these solutions.