Flammable liquid storage is an all-important factor to consider for anyone housing these elements around them. Whether within the industrial or corporate space or in a personal capacity, you need always to ensure you have the correct containment equipment available to protect you from potential hazards.
As there are so many potential risks when dealing with these factors, the proper containment can ensure a spill does not leak out into the open and ensure that any external hazards will not put the housed elements at risk. Therefore, when working with these inimitable elements, it is integral to your health that you have the proper protective housing and equipment available.
Read on to find out more about these needed products.
Protective Containment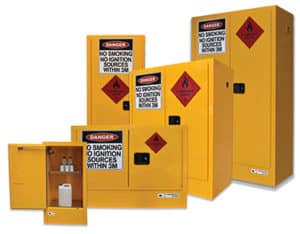 First and foremost, the point of these products is to ensure that all chemicals on-site are stored in the correct equipment. From spill pallets to neutralisation equipment, there are many ways in which these products can help you contain any spills and ensure that no external factors like fire or other chemicals will cause immediate danger to the stored elements.
With the suitable protective containment options, you can safely go about your work within the space with confidence in your safety while completing tasks. Especially when considering an industrial environment, these containment units are integral to the safety and successful work on-site.
As a business can not shut down because of a hazard, it must take the utmost care and precaution to ensure all elements are contained and managed correctly.
Corporate & Personal Safety
Any workspace, whether at home or within the professional context, must be safe at all times. Personal protection and the equipment needed are seen as an all-important part of working safely, and the same can be said for suitable chemical housing.
As many machines and tools in the working space could cause any range of electrical faults, having uncontained, flammable elements around is an immediate threat to your safety. When housed in suitable containers, these chemicals can be protected from several factors that may be present and offer everyone in the area more time to get away in a worst-case scenario.
Flammable liquid storage is integral when working with elements that could threaten your safety. With the right equipment for the job, you can protect everyone in the area and ensure you can get your work done safely. Contact us today to find out more.