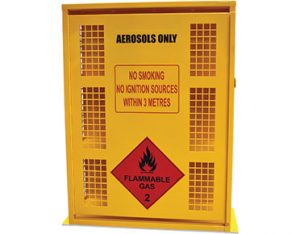 Aerosol cans are found in almost any household and workplace one can think of, and they are a convenient way of storing and dispensing substances, including ones that are hazardous. Convenient as they may be, they may contain flammable gasses and therefore classified as Class 2 on the Dangerous Goods List and must be handled and stored safely.
Here, we will take a look and discuss how to work with aerosol cans, some hazards involved in using them, why there is a need to safely store them in your workplace, and how we at Wholesale Safety Storage Australia (WSSA) can help you.
Safe Use of Aerosol Cans in the Workplace
Aerosol cans are not commonly thought of as hazardous or high-risk items, but they are. For this reason, it should be standard policy that any workplace using aerosol cans should be equipped to store them safely.
Aerosol cans contain gases and liquids that are flammable if exposed near sources of heat, exposed to fire or an ignition source. The cans contain compressed gas that is under pressure. This pressure increases with heat and may cause the can to burst that may cause injuries.
It is sometimes hard to believe that those little cans we see on our warehouse shelves are listed as Class 2 Dangerous Goods. You may have noticed that on a trip to the hardware store, to buy spray paint for instance, the cans are stored in a cage.
The reason behind this is that they need to be stored in accordance with AS/NZS 3833:2007 under the Australian Dangerous Goods Code (ADG Code).
Hazards of Aerosol Cans
Incorrectly stored aerosol cans, regardless if the can is filled or empty, can pose great risk with possible devastating outcomes in your workplace that may cause injury, work stoppages, and hefty fines to cite a few examples.
An aerosol can be a deadly projectile if it gets punctured and can cause destruction or injuries. Likewise, if it is exposed to excessive heat, it can ignite and cause explosions and its contents may ignite causing fires.
Another instance of Aerosol can be hazardous is the content of the product being dispensed by the can itself. More often than not, these products are hazardous or toxic, such as insecticides. Others may contain concentrated solvents found in paints or cleaners.
Also, often overlooked is how empty aerosol cans are disposed of or if the can is past due its expiry date. Disposing these cans with regular garbage could be a potential risk of fire or explosion.
Tips for Working with Aerosol Cans
Anyone who handles aerosol cans should be aware of the general hazards of these items and the hazards associated with the specific ingredients they contain. Proper storage and disposal should be observed and followed, such as:
Remember that aerosol cans are pressurised containers. High temperatures can increase the pressure in the cans that could cause it to explode. Be mindful never to store cans at temperatures higher than 48 degrees Celsius (°C).
Never expose cans to open flames.
A sudden release of pressure by puncturing the can can cause it to turn into the equivalent of an unguided missile.
Aerosol cans should always have warning labels on them, especially those with ingredients that may be deemed hazardous to health, such as those that are:
Toxic
Flammable
Eye or Skin Irritant
Caustic
Sensitiser
Carcinogen
Nerve toxin
Reproductive toxin
They should also include warnings against accidental swallowing or inhalation.
Safety Tips in Storing Aerosol Cans
In packages and bulk containers, do offer some guidelines in storing and handling including protecting these cans from weather, direct sunlight and reminders to keep them away from flammable liquids and heat and ignition sources.
The environment and the quantity of aerosols has an effect on how they should be stored properly.
Small quantities of aerosols can be stored in a flammable liquid storage cabinet as per AS 1940:2017 "Flammable Liquids Storage and Handling" to ensure both containment and fire resistance.
Store aerosol cans only in approved flammable liquid cabinets.
Use a dedicated and ventilated aerosol storage cage. Ventilated cages allow for the dispersion of leaks into the atmosphere. This ensures that in the event of any leak, there would be no build up of the material or gas that can potentially be an ignition risk. Ventilation also helps in keeping the cans cool
Using storage cages will prevent cans from becoming missiles in the event they explode, in case the cans have defects on them or in fire situations.
Aerosols should be stored in their designated areas. Avoid storing them near entrances and exits and in basements.
Make sure that the cabinets or cages you use include approved safety signages or placards.
Make sure that fire extinguishers or fire protection systems are more than adequate for the cans and substances stored.
Make sure that staff has adequate awareness of risks in handling aerosols. There should be no smoking in storage areas.
Stacks of aerosols should be on level and stacked evenly.
Aerosols with leaks should be immediately removed and taken to a well ventilated area to avoid becoming an ignition risk. Bear in mind that propellants are heavier than air. In the event of a leak, the flammable propellant may collect at low points and be an ignition risk.
Never incinerate aerosol products.
Making sure your workplace is operating safely does not happen by accident or chance. Depending on the unique operations of your workplace, the decision to include aerosol can storage should be included in any company's risk assessment. Unsecured hazardous chemicals including aerosol cans can pose a risk to your business, your staff, your neighbours, and the environment.
Here at Wholesale Safety Storage Australia, we have Aerosol Storage Cages that are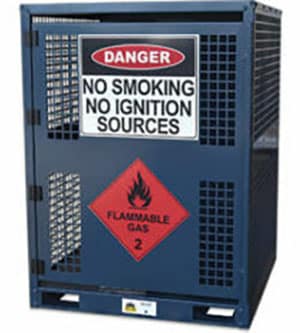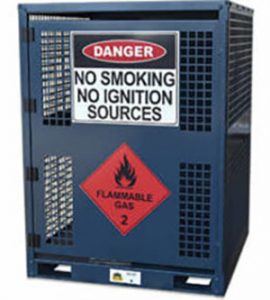 manufactured right here in Australia that meet Australian standards, conditions and for Australian people. 
We provide storage solutions for all your hazardous and dangerous goods. We have a wide range of shapes and sizes to suit your needs.