Flammable-liquids-cabinets-dangerous-goods-cabinets/" rel="noopener" target="_blank">Flammable liquids storage cabinets are suitable to ensure that your area is safe to use at all times. Whether dealing with heavy industry, home use, or lab setting, having the proper containment options ensures that you can keep your space safe to use at all times.
These hazardous chemicals and materials can cause harm when in contact with skin or eyes, or may contain fumes that you should not inhale. Keeping them correctly contained and separated from the working space allows for peace of mind that they are not exposed to sparks or potential mishaps.
Read on to find out more about these solutions.
Fire Buffer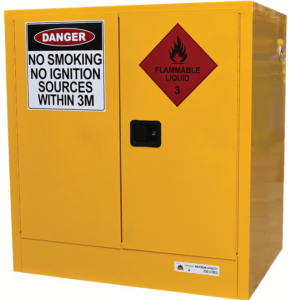 These durable safety cabinets are specifically designed to create a fire buffer between internal and external environments. Designed to have tightly sealed doors, any combustible vapours can be fully contained within the space to isolate them from any ignition source.
When working around any industrial setting, there can be many areas where sparks may result from work or accidents. When you have a tightly sealed cabinet to secure these elements, you can ensure that your storage is not at risk of explosion alongside the working space.
On the other side, the cabinet solution also ensures that none of the elements inside can leak out and cause a potential fire in the workplace in the case of a leak or issue.
Spill Containment 
Businesses that carry hazardous substances must have the necessary elements to contain any spill that may occur effectively. Kits are available for several materials and chemicals, giving you the necessary tools to safely remove these hazardous materials from the immediate area.
Cabinets feature a liquid-tight spill sump and closed ventilation so that all liquids and vapours are fully contained within the cabinet in the case of a leak within the space. Storing your chemicals inside an appropriately sized safety cabinet is one of the safest ways to manage leaks and spills. Workers can quickly clear the cabinet's spill sump without releasing it into the soil and drains.
Impact Protection
There is a requirement to protect containers of hazardous chemicals from damage caused by impact or excessive loads. High-quality cabinet designs cover chemical drums and containers from being impacted by forklifts, delivery vehicles, falling tools, falling debris and other potential hazards.
Flammable liquids storage is the ideal way to keep both your staff and your resources safe and protected at all times. When you have professional solutions, you can ensure your working space meets Australia's requirements for workplace safety. Contact us today to find out more.