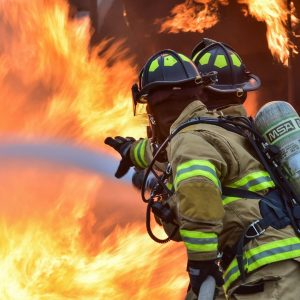 What are flammable liquids, firstly? Flammable liquids like the name implies are liquids that are very volatile that can ignite easily with a spark or ignition source. To be more specific, The Australian Dangerous Goods Code defines flammable liquids as:
"Flammable liquids are liquids, or mixtures of liquids, or liquids containing solids in solution or suspension (for example, paints, varnishes, lacquers, etc., but not including substances otherwise classified on account of their dangerous characteristics) which give off a flammable vapour at temperatures of not more than 60 °C, closed-cup test, or not more than 65.6 °C, open-cup test, normally referred to as the flash point. This class also includes:
(a) liquids offered for transport at temperatures at or above their flash point; and
(b) substances that are transported or offered for transport at elevated temperatures in a liquid state and which give off a flammable vapour at a temperature at or below the maximum transport temperature."
Now we know the basic and the legal definition of what a flammable liquid is. We should be discussing why it's so important for a company to know and comply with safety regulation, especially when they are handling potentially flammable goods indoors.
Storing materials, especially flammable goods, is definitely not as easy task. There are a number of variables to look out for.
Ignition Sources
Despite the small amount of flammable materials allowed to be stored indoors, these flammable liquids should  be kept well away from any ignition sources that are present in the environment. Examples can include blow torches, sparks from sanders and grinders, welders, soldering irons and even sparks from electronics short-circuiting.
There are a lot of ignition sources possible, especially in an indoor setting. If you have small quantities of flammable liquids, it's really important to keep them safe, well ventilated and away from these potential ignition sources. Remember, fire is just air + fuel + spark.
Spillage
Did you know gasoline/petrol in liquid form is not flammable, it's when it starts to vaporise that it becomes easily ignitable? This is the reason why spillage control is very important as well.
When small quantities of flammable liquids are being stored in your workplace, you should have a contingency plan when a spill inevitably happens. Human error cannot be completely removed from the equation because there are days when you're just all thumbs.
That's why any spills or leaks that might occur must be cleaned up immediately to reduce the risk of the spilled material coming into contact with ignition sources and other combustible fuel sources like paper, cloth, etc. Aside from the imminent danger that is fire, Flammable liquid spills can also hurt the environment and should not be allowed to flow down the drain or any kind of waterway.
Aside from spill kits (which we offer, check here) you should have an indoor flammable liquid storage cabinet that has a built-in spill containment sump for potential seepage or leaks that might happen while they are stored inside. Check out our offering here.
Warning Signs and Fire Protection
If you're storing flammable liquids indoors, it would be wise to invest in proper fire protection. Research on the proper fire extinguishers and tools you need to be ready if anything happens.
You should keep the fire extinguishing equipment close to your indoor storage. As for fire extinguishers, you should procure one that is suitable for use with chemical and flammable liquid fires. Do not forget to put warning signs boldly warning anyone entering the immediate vicinity of the liquid storage and handling area.
Quantity of Flammable Liquids
Remember that if you are storing greater than 10 Litres of flammable liquid within an area of 50 square meters in a commercial building then must follow more stringent requirements as you are not anymore considered minor storage.
Indoor Flammable Liquid Storage
If you're storing flammable liquids indoors, you must get a flammable liquid storage cabinet that meets requirements (section 4.9 of AS1940). To protect your people, property and the environment, a flammable storage cabinet is needed. Indoor Flammable storage cabinets must be made and used in accordance to safety regulations. We'll give you a brief description of the requirements in making these flammable liquids storage cabinets.
Construction – The cabinet's floor, walls, doors and roof must be made of double walled steel. The gaps between the walls must be filled with fire-resistant insulation and must not be less than 40 mm apart. The gaps around the doors must be sealed to prevent radiant heat and flames from escaping in case of a fire.
The base should have a liquid-tight sump that is at least 150 mm deep (more for cabinets with larger capacities). The sump is designed to contain only liquid that is spilled inside the cabinet as not another storage area.
Shelving inside the cabinet must be perforated for free airflow inside the cabinet. The shelving must be built strong enough to handle the maximum load possible the cabinet is rated for. The Cabinet and shelving must be designed so that any spill will be directed to the sump in the base of the cabinet.
The cabinet doors must self-close. They must be close-fitting and should have catches at two or more points that hold the doors close automatically. If the cabinet doors are equipped with a prop or device to hold the doors permanently open (when loading) it must self-close when temperatures hit 80 degrees Celsius.
The flammable material cabinet's super structure (the parts that are critical to its structural integrity) must be made of materials that will not melt in temperatures below 850 degrees Celsius. This does not include the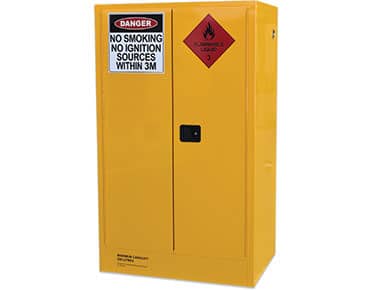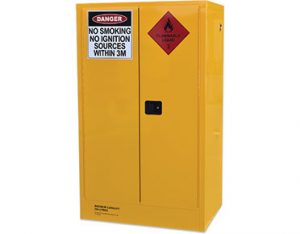 cabinet's seals and gaskets, of course.
For businesses that handle any amount of flammable liquids, knowing what goes into a quality, regulation compliant, flammable storage cabinet is a matter of utmost importance. It can be considered as the first line of defence in case of any fire. Of course, doing your research and following safety regulations and having proper firefighting tools and equipment is equally important for the safety of your business.
We here at Wholesale Safety Storage Australia are glad to offer a compliant and reasonably priced indoor flammable storage cabinets in different sizes to cater to whatever your company requires.