Did you ever ask yourself why your body perfume is never recommended to be put under direct sunlight? Or have you ever thought why it is extremely dangerous to expose gasoline in open flames?
In this article, you will know what flammable liquids are, the hazards they could bring potentially, how to safely store, manage, and handle them, and how we at Wholesale Safety Storage Australia can be of assistance in getting your workplace safety compliant.
Class 3 Dangerous Goods Defined
The Australian Dangerous Goods Code, according to the United Nations (UN) Model Regulations, establishes all hazardous substances into nine (9) different dangerous goods classifications according to their chemical and physical properties, as well as the risks that they present.
Flammable liquids belong to the dangerous goods classifications, particularly categorised as Class 3 Dangerous Goods. But what consists of flammable liquid? Class 3 dangerous goods are flammable liquids with flash points no more than 60 degrees Celsius. It covers liquid substances, molten solid substances with a flash point above 60 degrees Celsius, and liquid desensitised explosives.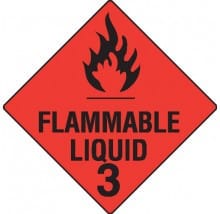 Flammable liquids hazard symbol. There are no sub-divisions for Class 3 flammable liquids.
Class 3 Dangerous Goods that are commonly transported consist of acetone, adhesives, ethanol, gasoline, methanol, paints, perfume, and some pesticides with flammable solvents.
Handling and Storing Regulations Of Flammable Liquids For Australian Business Premises
Safety regulations for handling and storing Class 3 flammable liquids are intended to prevent accidents in the workplace. Business premises that use, manage, or store flammable liquids must comply with these regulations.
If you are running a business, it's advised that you have your flammable liquids stored in appropriate flammable liquids safety cabinets, separating dangerous goods that may react when stored together. Additionally, dangerous goods storage cabinets also differ in shape and size, so it is important to select a storage solution that has the proper size and maximum volume capacity for your storage needs.
In addition to that, a copy of the safety data sheets for each flammable substance must be kept close to the area where the flammable liquids are being kept, in cases that Class 3 flammable liquids are utilised in the workplace. Manufacturers of chemical products develop various documents such as these safety data sheets to accompany the use of their hazardous chemicals.
Safety data sheets do provide critical information about the hazardous chemical including, but not limited to: the identity, physical and health hazards of the chemical, reactivity, and stability, handling and storage obligations, emergency procedures, as well as its transport information.
How Wholesale Safety Storage Australia Can Help You
To be able to meet work-safe obligations, storage of class 3 flammable liquids in compliance with the relevant Australian Standards are crucial and necessary. If flammable liquids are not given proper attention and care, they can pose a big threat not just to your business and your staff, but also to the nearby establishments, as well as the environment in general.
You need to possess safe storage and handling systems that integrate safe designs while holding the highest possible and state-of-the-art standards. It is because when you know how injuries can happen in the workplace, you can put in place prevention measures. Prevention is better than cure at the end of the day.
More than anything else, this is what we aim at Wholesale Safety Storage Australia, where all of our products are manufactured right here in Australia, for Australian conditions, for Australian people. All of our products meet Australian Standards, and we stand by that with a 100% guarantee.
We have a wide range of flammable liquids storage solutions for all your flammable liquids cabinet needs. You can choose from a variety of shapes and sizes to suit your location, size, quantity, and type of flammable to be stored.
Features of our range of flammable safety cabinets consist of self-closing doors, built-in vents with flash arrestors, spill containment sump with drain, and a yellow gloss lead-free epoxy/polyester powder-coat finish. WSSA's Class 3 flammable liquids cabinet designs have been manufactured to suit all applications. Our tough and easily manoeuvrable flammable liquid safety cabinets comply with the requirements of AS1940-2017.
Why Investing in Safety is Investing for Success
Investing in Class 3 Flammable Liquids Cabinet is not only a valuable way of avoiding untimely workplace misfortunes, but it is also required by the national and local workplace codes in Australia. Always keep in mind, it is by keeping your employees secure that you can guarantee a better and more productive workplace. Our thrust at Workplace Safety Storage Australia is to help create safety storage products that address specific hazards in your workplace.
To familiarise yourself with our vision and what ways can we make it happen, make sure to check our website: https://wssa.com.au/