When you think of aerosol cans, there are probably a few items that come to mind. Deodorant, bug spray, whipped cream, hair spray, cooking spray, and the list goes on.
However, we often don't realise that aerosol cans are class two under dangerous goods when buying or using these products. Now, you may be thinking to yourself that it is absurd – how is a can of whipped cream dangerous? Well, besides the empty calories, aerosol cans can be hazardous.
We have all seen the flammable warning signs on the side of aerosol cans, and we all know the dangers of improper use or exposure to heat, but most of us don't consider where and how we store them. In our homes, it is a lot easier to monitor the use and safety of aerosol products, and the potential for danger is still present, but businesses that sell or use aerosol cans face much more considerable risk.
Since aerosol cans are categorised as dangerous goods, it is mandatory to conceal them in a regulation aerosol storage cage. By ensuring proper storage, you facilitate measures for the health and safety of your business and staff.
Missile Launch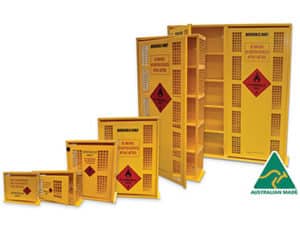 Plenty of videos on the internet display the force that can be built up by throwing a bottle of soft drink into the air and watching as momentum picks up and launches it like a missile when it hits the ground. Now imagine all of that force and energy packed into an aerosol can.
Sure, your deodorant can in the bathroom cabinet seems harmless, but expose it to a flame, and you will have a disaster on your hands. Businesses that sell or use aerosol products should be on high alert to ensure that proper storage and precautions are met to prevent explosions and possible injuries. Storage cages ensure the products are safe, correctly identifiable, and have regulated temperature through vents to facilitate cooling.
Inform And Protect
Information is a powerful tool and is, quite frankly, essential in safeguarding your business and the health of your employees or customers. Besides the proper storage for aerosol cans, clear and informative signage must be visible to remind staff and customers to be cautious and aware of the potential dangers.
In addition, ensure that staff who handle the product are adequately trained and familiar with the potential risks. Unfortunately, accidents happen, but the correct storage and information protocols can significantly reduce the likelihood of calamity.
Take a look at Wholesale Safety Storage Australia to find everything you need to safely store and conceal dangerous goods, or contact us today for a quote on our aerosol storage cages.