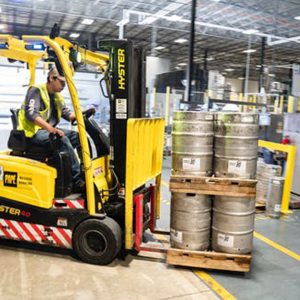 Warehouses. They are not only just a building, but they can potentially be one of the most important assets your business has. Warehouses are where you store your business's stock, be it raw materials, equipment, or finished goods waiting for shipping.
In a nutshell, a warehouse is where your business stores a lot of their stuff. It's as basic as that, but the financial ramifications of something happening to that building are catastrophic and to some, it's a business ender.
Due to its function, a warehouse's condition can dictate the fate of a business. That's why making sure your warehouse is safe and well protected is in your best interest because should any disaster fall on your warehouse then your business, at worst, could lead to shutting down and the ceasing of operations of your business.
In this article, we will be discussing 10 ways that you can reduce the risk and prevent fire from happening in your warehouse.
1. Plan fire prevention procedures.
Big surprise, we know. Reducing the risk of fires starts with having real, actual, solid, and actionable plans. Start by assessing the risks in your business. This involves identifying any fire hazards. You should determine people that are at risk.
You can then start reducing the risks that are present in your building. Know that using a cookie cutter or premade risk assessment would be a terrible idea, since each business's conditions and setups are unique. Hence, it will not cover all variables and will introduce potential blind spots in your assessment and eventually vulnerabilities in your fire prevention plan.
After the formulation of your plan, we would suggest you should train your employees in this new plan to make sure that they respond in an effective and appropriate manner when a situation occurs. You should also encourage your employees to self-inspect their equipment and their workplace. Listening to their feedback and suggestions is also a wise move, since they have a better view of the day-to-day aspects of your processes.
2. Inspect and keep your fire-protection equipment well maintained.
Your ability to fight fire is only as effective as your plan, training, and equipment. We've already discussed the first two in the item above, now we'll focus on your equipment.
You should always inspect your fire-prevention equipment. Items like fire extinguishers and fire detectors like smoke alarms have a perishable component to them. With fire extinguishers, the chemical agents stored in their tanks have an expiry date, while smoke alarms usually are battery-powered.
These need to be monitored, so they can operate at their peak effectiveness. In general, your fire-protection equipment should be inspected regularly to see if they are fully functional and will operate as needed when the time comes.
With fire-protection equipment we suggest you should consult experts on the number, placing and types of equipment needed for your operation since every business is unique.
3. Organise.
Yes. Organisation. Organising your operations and keeping your inventories tidy is one way to reduce the risk of fires. How, you may ask? Because you will know where things are, as well as get to the incident area as quickly as possible without encountering obstructions like narrow passages and limited space.
An operations area that is well-organised is an important part of fire safety. Organise your equipment so that heat-emitting and electric objects are placed far from objects that are combustible. For example, keep papers, oily rags, or other objects from a welding station. I know it's common sense, but you would be surprised what can slip our minds from time to time.
4. Check the Condition of your Electrical System.
You should check if your electrical system is running properly, and it meets the requirements for your use. Check to see if the electrical system in your warehouse was installed properly and is also maintained regularly. Schedule regular inspections by trusted experts, and test if everything is working correctly. If they see some abnormalities, you should get them fixed ASAP.
5. Get Security.
Protect your business by installing and getting adequate security. This includes security cameras and fire alarms. It's not paranoid because arson is the number 1 leading cause of warehouse fires.\
6. Smoking Areas.
You should consider prohibiting smoking inside warehouses. While this might be a minor inconvenience to people who really fancy a quick smoke, but the risk is just not worth it. You could construct or designate a smoking area. Make sure the area is made of non-combustible materials and is located away from any flammable materials, preferably over 10 meters away.
7. Inspect your equipment.
Get your machinery inspected and maintained regularly. Don't cheap out, as malfunctions are a primary cause of warehouse fires. Murphy's Law states that "What could go wrong, will go wrong". The name of the game here is not just saving money by prolonging your equipment's life, that's a benefit, but the main reason is to minimise the variables that can lead to a fire. This goes double if your warehouse has heating.
8. Proper Disposal of Waste Materials.
Another way to reduce the risk of fire is to properly dispose of your garbage. From materials like paper, cardboard, wooden pallets, plastic, to different chemicals. You should dispose of them properly and not just chuck them all in a garbage can and just forget about it. If you're handling hazardous materials, then you should follow Australian Safety Standards to avoid any untoward incident, especially since a lot of hazardous materials are volatile.
9. Make Daily, end of day inspections, a routine.
At the end of the workday, people are tired and just want to relax. This is the time when their guards are at the lowest. At the end of the day, you should get trained personnel to do an inspection, just to make sure your employees have followed regulations and to see if everything is in order. Employees must check, then double-check if they have organised and stored their equipment properly and have disposed of any dangerous materials properly.
10. Get Fire Insurance.
At this point, you have done as much as possible to protect your warehouse from fire. Unfortunately, this doesn't mean you will be totally protected. No, sometimes the unexpected just happen. This is why Fire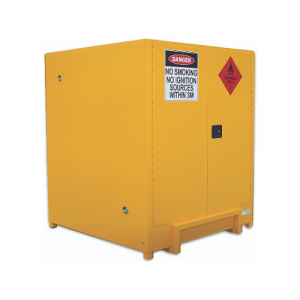 insurance is crucial to your business, to protect you from the unexpected. Check your policy to see if you are properly covered.
Consider these tips as a beginner's guide to preventing warehouse fires.
These are just basic tips and are just meant to point you in the right direction. While we're talking about fire prevention, we here at Wholesale Safety Storage Australia offer Safety Standard compliant storage equipment for your business. We strictly follow Australian Safety standards, meaning our equipment are meant to be tough and will help your business in reducing the risk of fires without breaking the bank. Contact us, so we can help you out on your road to fire safety.